---
RELAYIO-104
8 Relay Outputs, 8 Optically Isolated Inputs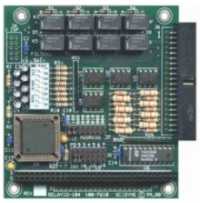 Stock #100-7610
The RELAYIO-104 is an 8-bit digital I/O peripheral module offering electrical isolation between the host and externally connected devices. It conforms to the PC/104 standard and operates on a +5V only power. A single 40-pin I/O header is used for all external wiring.
Embedded applications often involve the controlling and sensing of various external AC and DC signals while also requiring electrical isolation for the host computer. External solid state relay racks or similar devices are often considered but can be too bulky in many situations. The RELAYIO-104 allows field signals to be brought to the PC/104 system. It has the flexibility to accept combinations of AC and DC signals and offers 500V host-to-field isolation.
Key Features
Eight SPDT (form-C) Relay Outputs
Eight oprically isolated AC/DC digital inputs
Input filters for AC and noisy signals
500V isolation between PC/104 bus and I/O signals
---
IOCP-74
PIC Based I/O Co-Processor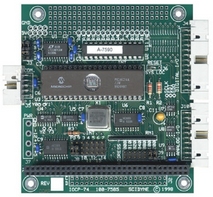 Stock #100-7585
The IOCP-74 is a user configurable I/O processing sub-system for PC/104 bus computers designed to relieve the host from performing rudimentary I/O operations and offers fast front-end response demanded by many real-time systems.
A Microchip PIC microcontroller controls the on-board circuitry and executes user programmed logic functions and algorithms independently from the host. A 40 pin socket accepts several PIC microcontrollers including the popular PIC16F877 and PIC18F4520. Standard features include: Analog I/O, Digital I/O, Counter/Timers, EEPROM, and Serial Communications. Custom hardware can be added by means of the on-board prototyping area.
Key Features
On-Board PIC microcontroller
Operates independently from PC/104 host
Five Analog Inputs
Two analog outputs
One RS-232/RS-485 port
Includes IOCPbios software